The 2021 Subaru Love Promise Community Commitment Award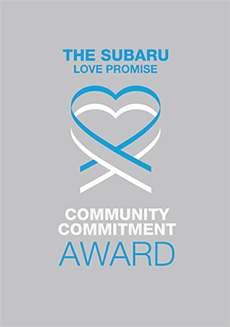 We've been nationally recognized for our dedication to our community and the Subaru Love Promise.
We're honored to receive the 2021 Subaru Love Promise Community Commitment Award. This award nationally recognizes Subaru retailers who are making the world a better place while demonstrating an outstanding commitment to supporting passions and causes in local communities. These efforts are focused in important areas such as the environment, community, health, education, and pets.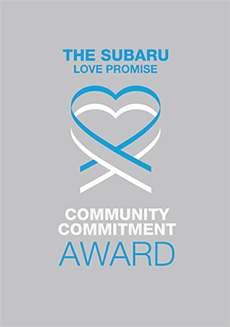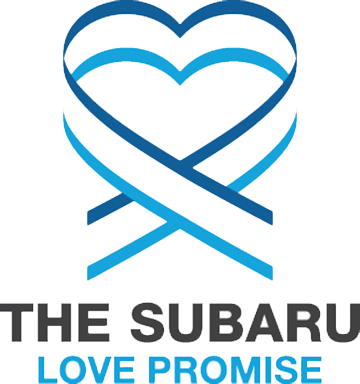 What is the Subaru Love Promise?
Subaru and our retailers believe in making the world a better place and the Subaru Love Promise is our vision of respecting all people. This is our commitment to show love and respect to our customers and to work to make a positive impact in the world.
How is MetroWest Subaru dedicated locally to the Love Promise?
Our Love Promise can be seen in various partnerships with local charities and non-profits. We're grateful for the opportunity, not only to be a part of our community, but to serve it as well.
Natick Community Organic Farm, Lincoln Land Conservation Trust
NSHS Athletics, Newton South High School, Natick High School Cheerleaders, Natick High School After-Prom Party, Newton Free Library
Life is Good Kid's Foundation, The Center for Arts in Natick, Boys & Girls Club MetroWest, OUT MetroWest, Natick Service Council
Natick Police Department, Natick Fire Department, Ethos, BayPath Elder Services
Love Promise Stories from MetroWest Subaru
Subaru and MetroWest Subaru believe in making a positive impact on the communities in which we live and work. We uphold that belief through our Love Promise Community Commitment. Every month, we select inspiring stories from customers and partners from around our area who strive to support our collective commitment and feature them here
Golf Tournament Boost for Project Just Because - Barb C
The Tee Up for Project Just Because Golf Tournament was held this week at Hopkinton Country Club. We had to cancel last year's golf due to covid, so this was an important fundraiser for PJB. We reached out to VJ Donnelly to see whether he could offer us a leased car for a hole in one as he had done last year, and his response was enthusiastic and prompt! We immediately started promoting this wonderful addition to the tournament, and it helped us fill our roster for our fundraiser. VJ was great in providing the information needed for our social media and brochure and arranged to have the car there early in the morning. The golfers were very enthusiastic and loved the challenge of getting a hole in one. There's no question that the addition of a car to our golf day raised the bar! We were able to raise over $44,000 for PJB, much needed for the food pantry in this difficult year. Thank you so much VJ and Metrowest Subaru for making a difference. We hope we can do this again next year!
---
MetroWest Subaru helps dogs in need! - B A - Betsy A
Thank you so much for making a difference to homeless dogs with your very generous donation of $3,100.00 on April 12, 2021, through your Subaru Loves Pets program. In April Save A Dog rescued a beautiful 3-year-old Pomeranian named Thor who had an untreated broken leg. It looked like Thor would need surgery to correct the situation. The orthopedic vet decided to try putting a cast on the leg to see if it would heal without surgery. We would know in a few weeks. Despite Thor's successful attempts at removing the cast, the leg was miraculously healing! We are so happy that Thor did not need surgery. He has now been adopted into a wonderful, loving home where he is continuing his recovery. We are very grateful to MetroWest Subaru's dedication and generosity to animals that is helping Thor and other dogs with special needs.
---
German Shepherd Rescue of New England - Deborah S
December 7, 2020 I am a volunteer for German Shepherd Rescue of New England, and recently contacted VJ Donnelly at MetroWest Subaru in Framingham, MA asking for a donation for an event that we were hosting the first weekend in December to benefit our rescue dogs. Without hesitation in the fulling of the "Share the Love Promise" of Subaru of America, Mr. Donnelly and MetroWest Subaru of Framingham stepped up immediately and generously donated to our upcoming December fundraiser to help our rescue dogs. On behalf of myself and the GSRNE Family we would like to thank you for your friendship and support. Without the generosity of companies like yours we would not be able to do what we do. As long as there are homeless German Shepherd dogs in New England we will be there to help them. On behalf of myself and the GSRNE FAMILY we would like to wish all of you a healthy and Happy Holiday Season! Best, Deborah Saperia, German Shepherd Rescue of New England
---
A special act of kindness - Barbara G
A special act of kindness.... Back in the early part of the pandemic my car was due for service at Metrowest Subaru. Not only did VJ Donnelly pick up my car but he asked if there was anything, I needed from the local grocery store. At first, I said "no" but thank you (thinking not his job)!!!! Persistent, he emailed me while returning my car to me: "Are you sure you don't need anything?" I succumbed and asked for a few essential things. I will never forget his special act of kindness!!!
---
Metrowest Subaru Shines a Light on Alzheimer's - Aimei L
Metrowest Subaru has partnered with The Longest Day (a signature fundraising event for the Alzheimer's Association) to shine a light on Alzheimer's and all dementias. We are so incredibly thankful for their partnership and support. Metrowest Subaru, VJ, and Angela are showing how community can still come together even during a time of unprecedented events. This year Metrowest Subaru helped raise over $1,800 through The Longest Day and will continue their partnership with the Alzheimer's Association by participating in the Greater Boston Walk 2 End Alz this year! Thank you for all you do to help us #ENDALZ!
---
The other day, during the covid-19 restriction - Bob W
The other day, during the COVID-19 restriction measures, I found that my 2017 Legacy wouldn't start. I called the MetroWest Subaru service department but didn't want to schedule an app't, just wanted some info. 15 minutes later I received a call from V. J., who confirmed my thoughts: I needed a jumpstart. I told him that I was going to call AAA. Since I was only a few minutes away from the dealership, he volunteered to drive to me himself to jumpstart my car. V. J. is the General Manager of MetroWest Subaru! Their advertising is very effective: I see him in my living room almost nightly. My car started and I followed him back to the dealership for a speedy test and replacement. You can't beat that for service! I'm very happy to own a Subaru and am very glad I bought it at MetroWest Subaru.Thanks, Bob W, Metrowest
---
MetroWest Subaru Supports Future Automotive Techs - M G
The Waltham High School community and the Career and Technical Education Department are very grateful to MetroWest Subaru for their donation of 40 coveralls for our Automotive Program students. MetroWest Subaru's Service Manager, Michael Koster, is a member of our Program Advisory board, and when he saw the need for coveralls for the students, he worked with the General Manager, VJ Donnelly, to organize a bulk donation to help us continue to provide the best opportunities for the students of Waltham. Our curriculum continues to promote rigorous development of 21st Century skills and career pathway preparation, and we would be unable to do this without the community partnership from organizations like MetroWest Subaru helping to provide meaningful experiences for our students. The donation of 40 coveralls has positively impacted the future aspirations of our Automotive Technology student population, and we are so appreciative of MetroWest Subaru's support of vocational education in our community.
---
Reading with Woodrow Wilson Elementary School! - W W
MetroWest Subaru is constantly looking for ways to give back to their local Boston-area communities in celebration of the Subaru Love Promise. We embody this in our day to day – helping others find the right vehicles, helping others work their vehicles and of course giving back our time to the community whenever able. One of our core goals in supporting Love Promise is the Subaru Loves Learning program – we aim to make a difference and promote healthy development in today's youth. Whether it's helping teach children in-need at a local math camp, or supporting the academic institutions and education initiatives in local Boston-area communities such as Framingham and Natick – MetroWest takes the pledge seriously. During Subaru Loves Learning month, MetroWest Subaru partnered with Woodrow Wilson Elementary School in Framingham, Massachusetts for a STEM book donation. STEM education creates critical thinkers, increases science literacy, and enables the next generation of innovators, and these books are not always readily available to schools. Through the stem book donation, MetroWest Subaru helps decrease the burden for the teachers and the literacy coach to supply the students with the materials they need. Specifically, each classroom was able to receive 2-3 different titles based on their learning standards, as well as be offered to the IB primary years program for students working on their Exhibition projects. The Media Center also received books for general checkout to those interested! Woodrow Wilson is also saving a few to gift to individual students as rewards for literacy and math achievement. These are just a few of the ways the school plans to use the books donated – they love the titles, the quality and the quantity of the donation. Thank you to VJ, Angela and the staff of MetroWest Subaru for their dedication to our community.
---
Sharing the Love with Natick Service Council - A P
MetroWest Subaru understands the importance of fighting food insecurity in our community, especially around Thanksgiving, so that all can have a happy and filling holiday. In our very own town of Natick, who are struggling and make difficult daily choices between paying for food, heat, rent or health care. We aim to ensure that all have an enjoyable Thanksgiving holiday. VJ and Angela of MetroWest Subaru volunteered for this year's Natick Service Council Thanksgiving program, helping to provide 263 meals to Natick neighbors. With help from MetroWest Subaru, we are able to deliver these meals to the families in need this holiday season.
---
MetroWest Subaru Loves to Make a Dog's Day - D R
Volunteering is at the core of what Save a Dog, Inc. embodies as a humane society. Save A Dog began after our founders, realized the detrimental effect kennel life has on some dogs while they were avidly volunteering at local shelters. They decided to take matters into their own hands and began fostering, building a foster network for the dogs they took in from local and remote dog pounds. They targeted many of the big city shelters and would load up their vans with many adoptable dogs, foster them, provide medical care and a holistic protocol, and put them up for adoption to approved homes. Save A Dog has grown over the years and now we have over 100 volunteers who help on an as-needed basis, and approximately 25-30 volunteers who help on a weekly basis. MetroWest Subaru has been a great partner over the years, assisting us greatly in our efforts to tirelessly to rescue and rehome unwanted or abandoned dogs to give them another chance at getting the love they need. From donating money and supplies, to helping Make a Dog's Day, they continue to be there for us and our dogs! Recently, they held a drive for pet supplies for the shelter, bringing us items like fluffy new beds, dog food, shampoo, toys and more! They understand that pets are members of our family, and the supplies and funds that are needed to not only get them a warm, comfortable place to sleep and food to eat, but also to help get them proper care. Their support also helps us continue to transport puppies from southern states like West Virginia and Tennessee, where puppies are thrown in dumpsters, drowned, or left in a box in the woods to die. The dogs we receive from rural humane societies all would otherwise have been put to sleep. Thank you to MetroWest Subaru – especially VJ and Angela – for helping us rescue dogs day in and day out. We are looking forward to our continued partnership.
---