The 2021 Subaru Love Promise Community Commitment Award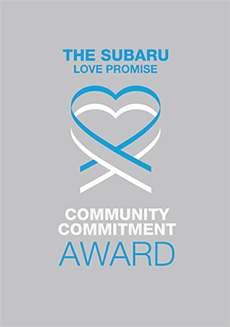 We've been nationally recognized for our dedication to our community and the Subaru Love Promise.
We're honored to receive the 2021 Subaru Love Promise Community Commitment Award. This award nationally recognizes Subaru retailers who are making the world a better place while demonstrating an outstanding commitment to supporting passions and causes in local communities. These efforts are focused in important areas such as the environment, community, health, education, and pets.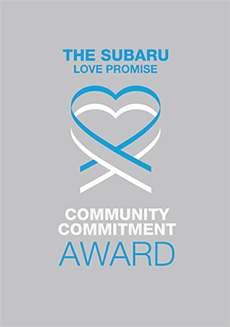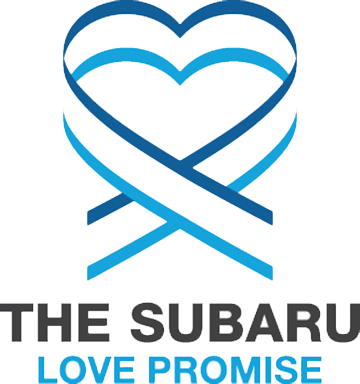 What is the Subaru Love Promise?
Subaru and our retailers believe in making the world a better place and the Subaru Love Promise is our vision of respecting all people. This is our commitment to show love and respect to our customers and to work to make a positive impact in the world.
How is MetroWest Subaru dedicated locally to the Love Promise?
Our Love Promise can be seen in various partnerships with local charities and non-profits. We're grateful for the opportunity, not only to be a part of our community, but to serve it as well.
Natick Community Organic Farm, Lincoln Land Conservation Trust
NSHS Athletics, Newton South High School, Natick High School Cheerleaders, Natick High School After-Prom Party, Newton Free Library
Life is Good Kid's Foundation, The Center for Arts in Natick, Boys & Girls Club MetroWest, OUT MetroWest, Natick Service Council
Natick Police Department, Natick Fire Department, Ethos, BayPath Elder Services
Love Promise Stories from MetroWest Subaru
Subaru and MetroWest Subaru believe in making a positive impact on the communities in which we live and work. We uphold that belief through our Love Promise Community Commitment. Every month, we select inspiring stories from customers and partners from around our area who strive to support our collective commitment and feature them here
MetroWest Subaru helps dogs in need! - B A - Betsy A
Thank you so much for making a difference to homeless dogs with your very generous donation of $3,100.00 on April 12, 2021, through your Subaru Loves Pets program. In April Save A Dog rescued a beautiful 3-year-old Pomeranian named Thor who had an untreated broken leg. It looked like Thor would need surgery to correct the situation. The orthopedic vet decided to try putting a cast on the leg to see if it would heal without surgery. We would know in a few weeks. Despite Thor's successful attempts at removing the cast, the leg was miraculously healing! We are so happy that Thor did not need surgery. He has now been adopted into a wonderful, loving home where he is continuing his recovery. We are very grateful to MetroWest Subaru's dedication and generosity to animals that is helping Thor and other dogs with special needs.
---
German Shepherd Rescue of New England - Deborah S
December 7, 2020 I am a volunteer for German Shepherd Rescue of New England, and recently contacted VJ Donnelly at MetroWest Subaru in Framingham, MA asking for a donation for an event that we were hosting the first weekend in December to benefit our rescue dogs. Without hesitation in the fulling of the "Share the Love Promise" of Subaru of America, Mr. Donnelly and MetroWest Subaru of Framingham stepped up immediately and generously donated to our upcoming December fundraiser to help our rescue dogs. On behalf of myself and the GSRNE Family we would like to thank you for your friendship and support. Without the generosity of companies like yours we would not be able to do what we do. As long as there are homeless German Shepherd dogs in New England we will be there to help them. On behalf of myself and the GSRNE FAMILY we would like to wish all of you a healthy and Happy Holiday Season! Best, Deborah Saperia, German Shepherd Rescue of New England
---
A special act of kindness - Barbara G
A special act of kindness.... Back in the early part of the pandemic my car was due for service at Metrowest Subaru. Not only did VJ Donnelly pick up my car but he asked if there was anything, I needed from the local grocery store. At first, I said "no" but thank you (thinking not his job)!!!! Persistent, he emailed me while returning my car to me: "Are you sure you don't need anything?" I succumbed and asked for a few essential things. I will never forget his special act of kindness!!!
---
Metrowest Subaru Shines a Light on Alzheimer's - Aimei L
Metrowest Subaru has partnered with The Longest Day (a signature fundraising event for the Alzheimer's Association) to shine a light on Alzheimer's and all dementias. We are so incredibly thankful for their partnership and support. Metrowest Subaru, VJ, and Angela are showing how community can still come together even during a time of unprecedented events. This year Metrowest Subaru helped raise over $1,800 through The Longest Day and will continue their partnership with the Alzheimer's Association by participating in the Greater Boston Walk 2 End Alz this year! Thank you for all you do to help us #ENDALZ!
---
The other day, during the covid-19 restriction - Bob W
The other day, during the COVID-19 restriction measures, I found that my 2017 Legacy wouldn't start. I called the MetroWest Subaru service department but didn't want to schedule an app't, just wanted some info. 15 minutes later I received a call from V. J., who confirmed my thoughts: I needed a jumpstart. I told him that I was going to call AAA. Since I was only a few minutes away from the dealership, he volunteered to drive to me himself to jumpstart my car. V. J. is the General Manager of MetroWest Subaru! Their advertising is very effective: I see him in my living room almost nightly. My car started and I followed him back to the dealership for a speedy test and replacement. You can't beat that for service! I'm very happy to own a Subaru and am very glad I bought it at MetroWest Subaru.Thanks, Bob W, Metrowest
---
MetroWest Subaru Supports Future Automotive Techs - M G
The Waltham High School community and the Career and Technical Education Department are very grateful to MetroWest Subaru for their donation of 40 coveralls for our Automotive Program students. MetroWest Subaru's Service Manager, Michael Koster, is a member of our Program Advisory board, and when he saw the need for coveralls for the students, he worked with the General Manager, VJ Donnelly, to organize a bulk donation to help us continue to provide the best opportunities for the students of Waltham. Our curriculum continues to promote rigorous development of 21st Century skills and career pathway preparation, and we would be unable to do this without the community partnership from organizations like MetroWest Subaru helping to provide meaningful experiences for our students. The donation of 40 coveralls has positively impacted the future aspirations of our Automotive Technology student population, and we are so appreciative of MetroWest Subaru's support of vocational education in our community.
---
Reading with Woodrow Wilson Elementary School! - W W
MetroWest Subaru is constantly looking for ways to give back to their local Boston-area communities in celebration of the Subaru Love Promise. We embody this in our day to day – helping others find the right vehicles, helping others work their vehicles and of course giving back our time to the community whenever able. One of our core goals in supporting Love Promise is the Subaru Loves Learning program – we aim to make a difference and promote healthy development in today's youth. Whether it's helping teach children in-need at a local math camp, or supporting the academic institutions and education initiatives in local Boston-area communities such as Framingham and Natick – MetroWest takes the pledge seriously. During Subaru Loves Learning month, MetroWest Subaru partnered with Woodrow Wilson Elementary School in Framingham, Massachusetts for a STEM book donation. STEM education creates critical thinkers, increases science literacy, and enables the next generation of innovators, and these books are not always readily available to schools. Through the stem book donation, MetroWest Subaru helps decrease the burden for the teachers and the literacy coach to supply the students with the materials they need. Specifically, each classroom was able to receive 2-3 different titles based on their learning standards, as well as be offered to the IB primary years program for students working on their Exhibition projects. The Media Center also received books for general checkout to those interested! Woodrow Wilson is also saving a few to gift to individual students as rewards for literacy and math achievement. These are just a few of the ways the school plans to use the books donated – they love the titles, the quality and the quantity of the donation. Thank you to VJ, Angela and the staff of MetroWest Subaru for their dedication to our community.
---
Sharing the Love with Natick Service Council - A P
MetroWest Subaru understands the importance of fighting food insecurity in our community, especially around Thanksgiving, so that all can have a happy and filling holiday. In our very own town of Natick, who are struggling and make difficult daily choices between paying for food, heat, rent or health care. We aim to ensure that all have an enjoyable Thanksgiving holiday. VJ and Angela of MetroWest Subaru volunteered for this year's Natick Service Council Thanksgiving program, helping to provide 263 meals to Natick neighbors. With help from MetroWest Subaru, we are able to deliver these meals to the families in need this holiday season.
---
MetroWest Subaru Loves to Make a Dog's Day - D R
Volunteering is at the core of what Save a Dog, Inc. embodies as a humane society. Save A Dog began after our founders, realized the detrimental effect kennel life has on some dogs while they were avidly volunteering at local shelters. They decided to take matters into their own hands and began fostering, building a foster network for the dogs they took in from local and remote dog pounds. They targeted many of the big city shelters and would load up their vans with many adoptable dogs, foster them, provide medical care and a holistic protocol, and put them up for adoption to approved homes. Save A Dog has grown over the years and now we have over 100 volunteers who help on an as-needed basis, and approximately 25-30 volunteers who help on a weekly basis. MetroWest Subaru has been a great partner over the years, assisting us greatly in our efforts to tirelessly to rescue and rehome unwanted or abandoned dogs to give them another chance at getting the love they need. From donating money and supplies, to helping Make a Dog's Day, they continue to be there for us and our dogs! Recently, they held a drive for pet supplies for the shelter, bringing us items like fluffy new beds, dog food, shampoo, toys and more! They understand that pets are members of our family, and the supplies and funds that are needed to not only get them a warm, comfortable place to sleep and food to eat, but also to help get them proper care. Their support also helps us continue to transport puppies from southern states like West Virginia and Tennessee, where puppies are thrown in dumpsters, drowned, or left in a box in the woods to die. The dogs we receive from rural humane societies all would otherwise have been put to sleep. Thank you to MetroWest Subaru – especially VJ and Angela – for helping us rescue dogs day in and day out. We are looking forward to our continued partnership.
---
STEM Book Distribution to I.B. World School - Jacqueline C
Thank you so much for the book donation to Woodrow Wilson Elementary School in Framingham, Massachusetts. At the Woodrow Wilson Elementary School-An International Baccalaureate (I.B.) World School, we celebrate our diversity! Woodrow Wilson Elementary provides an environment that develops inquiring, knowledgeable and caring young people who work to create a better peaceful world. Woodrow Wilson is committed to providing a high quality, challenging, international education that nurtures active, open-minded, reflective and balanced life-long learners. These independent learners will respect themselves and others, empowering them to be empathetic, competent leaders in a diverse, global society.The selection of STEM books donated to our classrooms are completely aligned with our philosophy of inquiry based learning and Common Core Standards. The texts have vivid illustrations and pictures allowing students to learn and wonder about their world.We are able to use the books for several different purposes that meet the needs of our students. Each classroom received 2-3 titles based on the alignments with their standards. Our Kindergarten and First grade teachers love the book Living Things and Nonliving Things: A Compare and Contrast Book by Kevin Kurtz. The book is perfect to include as a read aloud to students in their science unit on living and nonliving things. First grade teachers also appreciate the book, Light Waves, by David Adler, as it complements their science unit on light and sound. We are always looking for ways to teach our students about conservation and recycling. The addition of the Trash Revolution: Breaking the Waste Cycle by Erica Fyvie enhances our green lessons. Our I.B. Coordinator was thrilled to receive a class set of the books donated to use throughout the school year. Bug Lab for Kids by John W. Guyton and Iqbal and His Ingenious Idea by Suneby & Green are perfect for students working on their Exhibition projects to spark their curiosity and give them ideas for their own projects. The quality of the books is quite high. Our media specialist wants the books to be available to all students so we are putting one copy of each title in the media center collection for general check out. These are just a few of the ways we plan to use the books donated by MetroWest Subaru! We love the titles, the quality, and the quantity of books we received. We still have books available to give to individual students as rewards for literacy and math achievement. Again, thank you so much for donating this excellent STEM collection of books to us at Woodrow Wilson Elementary school.
---
MetroWest Subaru Loves to Help Seniors - Betty R
MetroWest Subaru has been supporting seniors in our community for years through Meals on Wheels as a partner dealership; but this past year has really gone above and beyond by volunteering to pick up and deliver meals to local seniors in need from Westborough Senior Center. Each week, without fail, VJ Donnelly, the General Manager, comes in to pick up meals for those seniors unable to leave their homes due to illness, disability or frailty. VJ always has a smile on his face and is eager to help those in need – whether it's holding an umbrella for someone walking to their car, or even helping point out features on my Subaru Outback when he comes in each Thursday. We love the relationship we have with MetroWest Subaru – VJ has introduced us to Tony and Angela, as well as other employees who have come to help pick up the packages and deliver for Meals on Wheels. The seniors in the community have come to expect to see their friendly faces each week. By the end of the year, MetroWest Subaru will have delivered 365 meals to the local seniors in need in our community. MetroWest Subaru's support of the Senior Center allows the seniors we work with to maintain their independence in their chosen homes while meeting their social and nutritional needs, and helps us reach even more of our elderly neighbors in need than we were able to before. MetroWest Subaru is not just a business; they are an active part of our community working to make it a better place. It's a dealership that truly does care about doing good in the world and giving back to those in need.
---
MetroWest Subaru Loves Learning at Local Math Camp - J G
MetroWest Subaru knows how important education is in our local community. VJ Donnelly and Angela Pessolano of MetroWest Subaru recently volunteered their time as math counselors at the Framingham Public Library math camp. They took the time out of their busy days to teach math to local third and fourth graders, and in a way that makes it fun and fosters an environment for learning! VJ and Angela helped the camp attendees solve math worksheets and puzzles with multiplication, division, addition and subtraction. The children learned solutions to math problems through board games, computer programs and even a math-based escape room! VJ and Angela helped the kids gain confidence in their skills as they geared up for the coming school year and freshened up their problem-solving skills!
---
Boys & Girls Clubs of MetroWest Youth Basketball - Laura M
MetroWest Subaru has supported the Boys & Girls Clubs of MetroWest's Youth Basketball League for almost a decade! Since 2010, MetroWest Subaru has sponsored a team through our Youth Basketball League. This League not only teaches youth the core skills of basketball, but also how to be a team player and how to win or lose graciously. Every child gets equal playing time so that every child can learn the importance of being part of a team. This League serves more than 700 youth every single winter and would not be possible without our core partners, like MetroWest Subaru.
---
MetroWest Subaru Loves the Earth - Angela P
MetroWest Subaru recently committed as a Supporting Sponsor of the Lincoln Land Conservation Trust's (LLCT) Scarecrow Classic 5K Road/Trail Race. The race is an essential component of LLCT's fundraising success, as it enables the LLCT to continue to help protect and manage more than 2,500 acres of land and nearly 80 miles of public trails as a regional recreational resource for the Greater Boston Area. Thank you again, Frank and MetroWest Subaru for your generous donation!
---
MetroWest Subaru Helps Families in Need - Cherylann W
MetroWest Subaru recently donated to the Tee Up for Project Just Because Golf Tournament last month. Their generous donation of tickets to a Red Sox vs. Yankees game got an extremely high bid at our auction, allowing us to continue with our mission of assisting struggling families. With MetroWest Subaru's help, we were able to raise over $38,000 at this event, which will go towards making a positive impact on the many people Project Just Because serves in Massachusetts.
---
MetroWest Subaru Loves to Care for Seniors in Need - Allison P
About three years ago, Baypath Elder Services, Inc, the local Meals on Wheels chapter, called MetroWest Subaru asking them to be their our partner dealership. The immediate response was yes – anything you need. Since then, we've partnered on various initiatives, including facilitating "Stuff the Trunk" food drives (providing the vehicle as well as organizing food donations at the dealership), partnering for Share the Love donations during the holiday season and having General Manager, VJ Donnelly speaking at our annual meeting about this initiative. However, the most rewarding part of our partnership has been the ability for MetroWest Subaru to donate their time to help deliver meals to those in need in the local community. Each week, the General Manager, VJ Donnelly, helps to bring meals to seniors who are unable to leave their homes due to illness, disability or frailty as a Meals on Wheels volunteer. The support that VJ and MetroWest Subaru provide Meals on Wheels is crucial to the goal of not turning away seniors who need a home-delivered meal. They go above and beyond donations with action – VJ Donnelly delivers meals every Thursday to seniors who have now come to expect his friendly face each week. To date, VJ has delivered more than 182 meals and is on pace to deliver 364 by the end of 2019. MetroWest Subaru makes a difference in the community by helping people who are older and want to live at home but aren't able to do everything for themselves anymore. Their continued partnership allows the seniors to maintain their independence in their chosen homes while meeting their social and nutritional needs, and helps BayPath Elder Services to continue to expand services to our elderly neighbors in need. MetroWest Subaru is not just a business; they are an active part of our community working to make it a better place.
---
Electrically turned around! - Al H
I left my home at 3:15 am today and was headed to Framingham with 66 miles on the odometer to travel on my Nissan Leaf, and the computer told me that it was only 39 miles to my location destination in Framingham. I accidentally went the wrong way which caused my travel plans to be compromised a bit. I realized I was running out of miles, and I started to panic because I couldn't find any charging stations. At this point, I had only 14 miles left to go. I'm 80, and this was not the best feeling. The first two dealers I stopped at didn't have a charging station, knowing the Subaru brand well I knew Subaru had just released the Hybrid XV. I had a good feeling I would find a charging station at MetroWest Subaru. I know they didn't need to help me, especially with a Nissan Leaf. They stepped right into action. Caleb and Boun helped me out and got me charged up to SAVE the day. Everything changed real quick after going to MetroWest Subaru. Then they also helped me find the dentist that I got lost trying to find. Thank you so much MetroWest Subaru Service team for saving the day. Your new friend Al H.
---
MetroWest Subaru Loves to Care with OI Foundation - Dick W
Several members of my family have a rare brittle bone disorder called osteogenesis imperfecta (OI) and we have had walks locally since 2004 that have raised more than $600,000 for our Osteogenesis Imperfecta Foundation. VJ Donnelly from MetroWest Subaru has been actively helping our events as a sponsor on our walks for several years. This year we partnered together for our third annual gala event – the Strong Bones Gala at the Sheraton in Framingham, MA. VJ went "all in" again with both a financial donation and "top shelf" Red Sox tickets for our silent auction that helped us to raise more than $90,000. MetroWest Subaru went the extra mile to help us have our most successful fundraiser since we started our events in 2004. It is only through the kindness and generosity of companies like MetroWest Subaru that we've been able to have our most successful event ever and offer comfort and support to those living with OI. MetroWest Subaru really does "Love to Care."
---
MetroWest Subaru Supports Save a Dog, Inc - Angela P
MetroWest Subaru Loves Pets helped raise money in support of rescuing and re-homing unwanted and abandoned dogs with Save a Dog, Inc at the Paws in the Park Silent auction! When the economy is tight and resources are scarce, people sometimes are forced to make difficult decisions about caring for their pets. MetroWest Subaru donated a pair of Red Sox tickets for the auction that helped raise proceeds so that Save a Dog can continue their mission and have a large impact on our area. Over 100 Save a Dog alumni dogs came to the event, in addition to over 200 other dogs and their families!
---
MetroWest Subaru Shares the Love with TCAN - David L
For the second time this decade, The Center for Arts in Natick (TCAN) was selected by MetroWest Subaru as the 2018 local charity participant in its annual Share The Love event. Through the efforts of Frank, VJ and the wonderful team at MetroWest Subaru, TCAN received a generous donation of more than $58,000 which will be directed towards critical building repairs to its historic Central Fire House facility. Originally constructed in 1875, TCAN presents over 300 concerts, art events, and movie screenings annually to over 30,000 patrons of all ages in this iconic Natick Center landmark. This support from MetroWest Subaru and its customers will allow TCAN to continue delivering on its mission to provide access to affordable and high-quality arts and education programs for the MetroWest region. To the entire staff of MetroWest Subaru, thank you sincerely for sustaining us with this transformative gift!
---
Bathe to Save Benefitting All Dog Rescue Inc. - Lisa K
All Dog Rescue Inc. is the proud beneficiary of the Bathe to Save Guinness World Record Fundraiser organized and hosted by Metrowest Subaru. With the generosity of Metrowest Subaru, we can rehome more adoptable dogs. Founded in 2003, All Dog Rescue is an all-volunteer non-profit organization dedicated to the rescue of Massachusetts dogs in need and matching them with appropriate and responsible owners. Since adoption fees cover less than half of our veterinary costs, we rely on funding from events like the Bathe to Save to support our ongoing mission. Thanks to the generosity of Metrowest Subaru, we can continue to support our local animal shelters, animal control officers, and owners who need to rehome their dogs. For more information, go to www.alldogrescue.org or follow us on https://www.facebook.com/alldogrescue/.
---
Subaru Goes to the 2018 Boston Pride Parade - Margery G
Getting the word out about Meals on Wheels, highlighting Subaru's role in supporting the Meals on Wheels program and supporting the rights of LGBT elders were the goals of Ethos's participation in the 2018 Boston Pride Parade. Boston's Pride Parade is 48 years old and is viewed by an estimated 500,000 people. The 2.27-mile long route weaves through the City of Boston, from Copley Square, ending at City Hall Plaza. Our Parade Marshall Meg Barhite led the Ethos contingent of 50 marchers with the Meals on Wheels Subaru as the centerpiece of our group. Rounding out the marchers was our mascot, Murray. The parade is not only watched in person but is live streamed on the local NBC affiliate so the number of people reached is much larger than the half million people along the parade route.
---
Subaru delivers in the Spring Snow - Margery G
On March 13 and 14, 2018 late winter storms pounded New England and Ethos was closed. Almost 15" of snow fell in Boston. The issue is always delivery on the day after the storm when cars are parked on both sides of narrow roads and the snow is not completely plowed or, in the case of part of Boston, not plowed yet. The Subaru powered through, helping to deliver meals on hilly, unplowed streets.
---
Unveiling the 2018 Subaru-Meals on Wheels Outback - Margery G
On December 19, 2017, Ethos held the official unveiling of the 2018 Subaru Outback. The unveiling was held in the West Roxbury neighborhood of Boston which has the largest percent of older residents in the City. The car was viewed by 250 seniors as they came to the event, held in conjunction with our annual Agewell West Roxbury holiday party. Ethos Development Coordinator Quyen Nguyen built a gas pump as a donation prompt for this event . Specials guests for this event included the Commissioner of the Commission on Affairs of the Elderly, City of Boston, Emily Shea, City Counsellor Tim McCarthy, State Senator Mike Rush, Ethos Board President Deborah Nolan, Ethos Board Treasurer, Nick Favorito, Ethos Board member Juan Lopez, Ethos Chief Executive Officer Dale Mitchell and Metrowest Subaru General Manager VJ Donnelly.
---
Stuff the Trunk Food Drive - Allison P
BayPath Elder Services' Meals on Wheels program would like to thank General Manager VJ Donnelly and the staff of MetroWest Subaru for their generous and enthusiastic hosting of a Stuff the Trunk food drive. The food that they collected during the Subaru Share the Love Event will be used by our staff whenever they encounter an elder who is out of food for any reason, including lack of money, loss of a caregiver, or medical crisis. At the end of the food drive VJ took time out of his schedule to deliver the collected food to our office and meet some of our staff. To everyone at MetroWest Subaru, thank you very much for your help and support!
---
MetroWest Subaru Supports Land Conservation! - Bryn G
Thank you MetroWest Subaru for supporting the Lincoln Land Conservation Trust's 5th Annual Scarecrow Classic 5k! Your sponsorship make our efforts to maintain open and rural spaces in the metro-west area possible! Land conservation benefits all of us!
---
MetroWest Subaru Supports After Prom Party - Kimberly C
On behalf of The Natick High School After Prom Party Committee, I would like to thank MetroWest Subaru for donating to our event. We really appreciate the dealership taking the time to help, and feel fortunate that MetroWest Subaru is committed to keeping our teens and our community safe. Without the help of local businesses like MetroWest Subaru, we wouldn't be able to provide this fun, safe and substance-free "all-night" party on prom night. Thanks again to Frank and the entire MetroWest Subaru staff!
---
MetroWest Subaru and Natick Artists Open Studio - Angela P
An avid member of the Natick community, MetroWest Subaru is a sponsor of Natick Artists Open Studios, where for more than 10 years, more than 70 artists in the Natick community have come together to present their art to the community, free of charge to hundreds of attendees. This year, MetroWest Subaru was a Silver sponsor, ensuring that they donated enough to cover a bunch of our expenses. Thank you, MetroWest Subaru!
---
MetroWest Subaru Sponsors Tour De Natick - Marc S
MetroWest Subaru values its role as being an important, charitable member of the community. This year, as they have in years past, the dealership sponsored Natick Rotary's 14th Annual Tour De Natick, of which all proceeds go towards scholarships and other educational support for worthy Natick students.
---
Share the Love: LiGKF - Angela P
MetroWest Subaru has been working with The Life is Good Kids Foundation for two years now, over which we've raised more than $142,000 to support significant investments in the childcare professionals who work in our schools, hospitals, and enrichment programs to help kids heal from poverty, violence, and illness. Our partnership is helping to positively impact the quality of care delivered to the most vulnerable children. In 2016 alone, we were able to support personal and professional development for more than 3,550 childcare professionals in New England.
---
Spreading the Power of Optimism - Amanda G
Far too often the men and women who dedicate their careers to teaching and caring for our most vulnerable children are overworked, underpaid, and under celebrated. So, for more than 25 years now, The Life is Good Kids Foundation (LiGKF) has been making significant investments in the childcare professionals who work in our schools, hospitals, and enrichment programs to help kids heal from poverty, violence, and illness.This year, with support from MetroWest Subaru, we were able to recognize our remarkable partnership at an event called, "Teachers' Night Out," where we invited 150 local educators and childcare professionals to Life is Good to hear from children's author and New England Patriots Superbowl Champ, Malcolm Mitchell. Teachers were treated to inspiring stories, touching tributes, special gifts, and sincere thanks from the entire community. The response from those in attendance said it all: What an awesome night! I loved hearing from Malcolm, but even better I left feeling like it was a celebration of teachers. That was an amazing and unexpected bonus. I've been in education for 17 years and have never been given flowers and swag bags for being a teacher. I felt greatly appreciated!
---
MetroWest Subaru: A Real Community Partner - Bethany G
I cannot speak highly enough about VJ and Frank at Metrowest Subaru in Natick, MA, and their commitment to supporting urban youth in their pursuit of four-year college degrees. As the Director of Development and Communications at Boston Collegiate Charter School, a fifth through twelfth grade public school serving nearly 700 students from every neighborhood of Boston, each year I help organize fundraising events on behalf of the school, including our annual College Success Fundraiser, which provides scholarships to alumni of our school who are in need of financial support while they pursue a college degree.Not only have the guys at MetroWest Subaru supported the event by purchasing tickets to attend, but this year, they also generously donated two pairs of excellent Red Sox tickets for our raffle.Their generosity helped us in hosting the most successful scholarship fundraiser in the history of the school this past spring.I expect staff at car dealerships to be nice to customers, but the kindness and sincerity of VJ and Frank in supporting philanthropic causes that are meaningful to them is humbling. The students and alumni of our school are grateful for their support!
---
MetroWest Subaru Helps Raise Scholarship Funds - Angela P
MetroWest Subaru helped to raise scholarship money supporting the Boston Collegiate Charter School (BCCS) annual Edward M. Kennedy Scholarship fundraiser. MetroWest Subaru provided sets of Red Sox tickets for a raffle to raise money, as well as additional monetary contributions, helping to raise over $12,000, all of which will be used for scholarships for Boston Collegiate Charter School alumni. Thanks to MetroWest Subaru, BCCS can help students achieve their goals through education.
---
Spreading the Power of Optimism - The Life is Good K
Last year as the dealership's local charity partner in their Share the Love event, the good customers and staff at MetroWest Subaru raised more than $64,000 to help The Life is Good Kids Foundation work to ensure high-quality childcare to more than 120,000 children faced with growing up amidst poverty, violence, and illness across the United States and Haiti. The Life is Good Kids Foundation is so very grateful to be continuing our partnership with MetroWest Subaru and their generous customers.
---