All About Your Local MetroWest Dealer's Promise to Subaru Loves the Earth
The Subaru brand is known for their involvement and investment in initiatives that benefit many parts of society. Their five pillars of good doing are called the Love Promise Community Commitment, and MetroWest Subaru is a proud part of this promise through as many outlets as possible.
We Are Excited To Offer Easy Rail-Trail Access to All Visitors
Your time at MetroWest just got even better! While our expert technicians take the best care of your Subaru, you now have one more wonderful way to enjoy your wait. Natick recently completed the Cochituate Rail Trail, a beautiful 4 mile bike/walking path with an entrance just steps away from our service department. In addition to our comfortable lounge areas you can bring your bike or walking shoes and enjoy some fresh air and great scenery!We are excited to offer easy access to this 4 mile stretch that provides scenic views and access to various community locations. This is just one of the many benefits of visiting us at MetroWest Subaru and we hope you take full advantage of this trail and all of our amenities!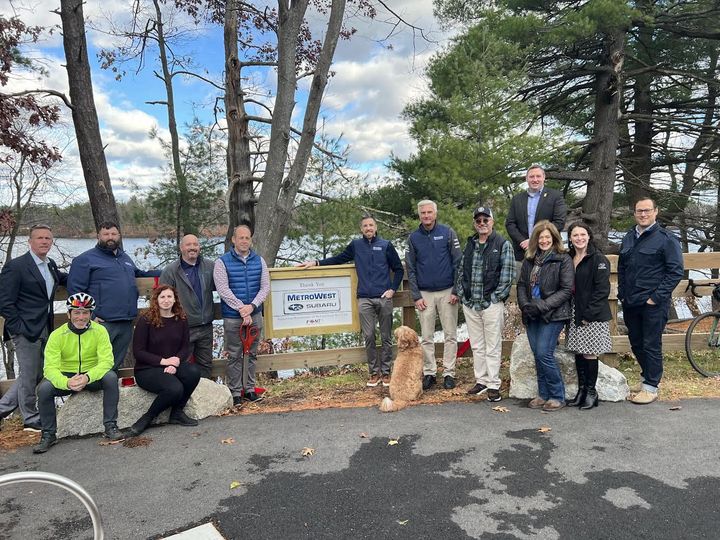 What is Subaru Loves the Earth?
Subaru Loves the Earth is one of the most important and exciting elements of the Love Promise and actively works to spread the message that loving nature is not enough, we have to work to preserve it as well. Subaru as a brand has worked for over a decade to become the first automotive manufacturer in the United States to become zero-landfill. They also work with the National Park Service and Conservation Association.
What is MetroWest Subaru Contributing to the Environment?
We play an active part in our community environment by supporting local organizations that are working to make the planet a happier, healthier place. We're a supporting sponsor of the Lincoln Land Conservation Trust, which strives to protect and conserve rural land in Lincoln, MA.
Our partnership has resulted in a collaboration on the Scarecrow Classic 5K Road/Trail Race, where we raised money to protect 2,500-acres of lands and 80-miles of trails via donations.
We also support our local Natick Community Organic Farm, which provides certified-organic fruits, vegetables, eggs, maple syrup, and flowers to our local community. They also offer tours and activities for families to get involved, learn more about organic farming, and greater understand where their food is coming from.
Join Us in the Subaru Loves the Earth Promise
Join forces with your local MetroWest Subaru dealership and help us support our local businesses that are working to protect, persevere, and cultivate our environment. It's never too late to get involved in these events that will benefit our community for many years to come.
Make an Inquiry
* Indicates a required field
Hours
Monday

9:00AM-7:00PM

Tuesday

9:00AM-7:00PM

Wednesday

9:00AM-7:00PM

Thursday

9:00AM-7:00PM

Friday

9:00AM-7:00PM

Saturday

9:00AM-7:00PM

Sunday

Closed